Latest News: COVID-19 and the events industry (15 April)
It was an Easter Weekend like no other. . .
But we hope you all made the most of it, and have now battled through the post-Easter stomach ache from eating too much of the kids' Easter chocolate. Not that we speak from experience or anything.
In today's news briefing, we've got: proof that climate change deniers are kidding themselves (as if we needed it); a warning about 'zoombombing' (we hope you haven't had to find out what that means the hard way); an events podcast to banish boredom; a whopping 14 alternatives to the germ-spreading handshake; and a hopeful roadmap to recovery for our beloved industry…Let's get stuck in, shall we?
Nature is bouncing back—but for how long?
As countries around the world have gone into lockdown in the wake of the coronavirus pandemic, there has been one surprisingly positive consequence—the earth is recovering. Motorways have cleared, the skies have silenced, air pollution has plummeted, and animals are reclaiming their territory. Not to mention, the excellent 'nature is healing' memes we've been blessed with…
But seriously, this proves—to all those climate change naysayers out there—that global action *can* make a difference. Due to our drastically changed lifestyles in recent weeks, nature is undoubtedly bouncing back…but, the question is, how long will it last?
As a recent article in The Guardian makes clear, the potential for us to learn from this and preserve a cleaner world will depend not on the short-term impact of the virus, but on the long-term political decisions that follow. A thought-provoking read, dive in here.
Beware the 'zoombombers'
With businesses flocking to online video conferencing platforms, the issue of data security on these sites has moved into the spotlight. You've probably heard about mischief-makers hijacking unsecure Zoom conferences and flashing some *very* NSFW images—a tactic known as 'zoombombing'. (Yes, there's already a name for it. The internet wastes no time.) It seems the Zoom team may have played fast-and-loose with the term 'end-to-end encryption', to put it mildly.
If you haven't done so already, here's how to update your privacy settings on Zoom. Better yet, if you've got an important virtual event in the works and want to make sure security is bullet-proof—that's what our Cameron Live team are for.
14 alternatives to the handshake (yes, 14)
These days, thinking back to all the hands you shook in your day-to-day working life might make your skin crawl…*runs to wash hands compulsively to the tune of Happy Birthday*. But Mashable has you covered with 14 alternatives to shaking hands in a post-coronavirus world.
We don't endorse all of these (we, for one, will not be touching feet when greeting new clients…) but most are pretty great. Our favourite? Hmm, it's a toss-up between 'live long and prosper' and the 'Jim and Pam high five'. Both germ-free and CDC-approved.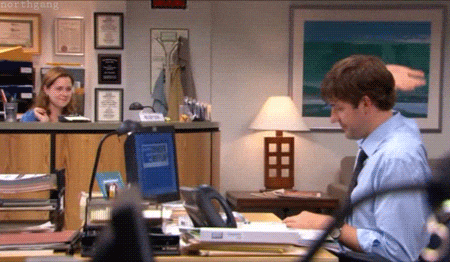 Battle boredom with podcasts
If you're finally suffering from isolation-induced Netflix fatigue and are looking for a more productive way to spend your time, we highly recommend podcasts. (If you're still going strong with Netflix, no judgement here—this is a safe space.)
Event Industry News published a podcast designed to get event profs ready for the first post-lockdown events—which may be sooner than we think. On 3 April, China hosted what organisers claim is the first major trade fair to take place in the country since the outbreak started; and if the UK were to follow the same timeline, then major events *could* start as early as the end of May.
If this timeline holds true (we can hope!) then event marketers will need to act quickly—and Tag Digital's event marketing guru, Laura Davidson, tells you how to do just that. You can listen here.
60% of events industry suppliers facing collapse
Also on Event Industry News, a sobering statistic—according to an online survey of 1,490 businesses across all sectors of the UK events industry, some 60% of the event industry's supplier base is facing collapse within 3 months, unless event businesses receive further support from the government.
Despite the Chancellor of the Exchequer indicating in the House of Commons recently that event organisers and the supply network behind them should be eligible for leisure and hospitality business support grants, the survey revealed that most who have applied have been turned down by local authorities who are running the scheme.
So please share, raise awareness, and help to put pressure on the government to confirm to local authorities that all event organisers and suppliers are eligible for the hospitality grants. The UK has some of the best companies and contractors in the world supplying our events industry—and they need our help.
A roadmap to recovery. . .
To end on a positive note (you know us, always looking on the bright, virus-free side of life)—let's look forward.
"When all this is finally over" has been a popular refrain in recent weeks—but what does 'finally over' look like? As The Event Leadership Institute points out, there isn't going to be a definitive 'all clear'. So what might the road to recovery be for the events industry? They outline three rough stages that we can expect to see in the weeks and months ahead:
Phase 1: pure virtual…

Phase 2: local corona-style events, and…

Phase 3: full steam ahead.
Oh, we like the sound of phase 3! If only 2020 had a fast-forward button…
"Alexa. . .skip 2020?"